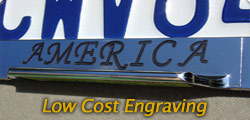 LICENSE PLATE FRAMES
Our License Plate Frames offer unmatched practicality, beauty and value. Nowhere else will you find frames with our unique high end look at our low prices.
At Framehandle.com we have the perfect license plate frame for any vehicle. Whether you're looking for your own car, your business or an auto dealership.
Watch How it Works
No fumbling, no fingerprints, no scratches. There's no comparison. Unlike other license plate frames ours are functional and effective and are an attractive addition to any car.
Nowhere else will you find a license plate frame designed to make your life easier. Our license plate frames add a touch of class to your vehicle and provide a useful handle for opening and closing your trunk.
Beautiful high quality chrome plating.

Strong, durable, fail proof design.

Intelligent design allows easy application of registration stickers.

Provides a smarter, easier way to open and close your trunk lid or hatch back.

Eliminates smudges, finger prints and paint scratches from jewelry.