Framehandle License Plate Frames
Our patented Framehandle license plate frame will allow you to ergonomically open and close your trunk lid by providing you with an intelligently contoured handle right where you need it.
Using the painted surface on your trunk lid as a means to close it is cumbersome, dirty, and will damage your car's paint finish. Dirt on your trunk lid acts like sand paper under your fingers every time you close it. This eventually will lead to costly repairs and transfers dirt to the interior of your car via your hands. Closing your trunk without a Framehandle can also lead to scratches from sleeve buttons and jewelry. Our Framehandle license plate frame keeps your hands and clothes clean and your car looking new.
Many shorter individuals must endure a cumbersome process to close their trunk lid that is physically straining and unacceptable. For these people, and also children, our Framehandle license plate frame is much more than an accessory, it's a necessity. Our Framehandle will allow you to close your trunk lid with a few fingers placed on the elegant handle and only a fraction of the energy exerted than before.
"I've had a Framehandle license plate frame on my car for two years now and have been recommending them to friends and family ever since. It's ergonomic, it looks great on the car, and I no longer end up with fingerprints all over my trunk lid. Even my kids love it, they wouldn't be able to close my trunk without it!" – Dr. C. Schirmer M.D., Santa Cruz, CA
"Closing my Audi's trunk had been an annoying two handed process. Now that I have a Framehandle license plate frame I'm able to close my trunk effortlessly and I no longer put scratches and fingerprints on my trunk lid."
– Michelle, Morgan Hill, CA.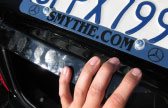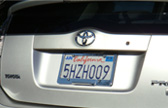 FEATURES
Our Framehandle License Plate Frame is a new product and is the only License plate frame available with a fresh modern, functional design.

Brings a much needed end to all the fumbling, fingerprints, and scratches that occur when closing your trunk lid.
BENEFITS
Our engineers made sure our License plate frames would pass the test of time. They are extremely strong and will not break on even the heaviest and most resistant trunk lids.

A framehandle is the ONLY license plate frame available that will help preserve your car's value while looking great.
Nowhere else will you find a license plate frame designed to make your life easier.Our license plate frames add a touch of class to your vehicle and can provide a useful handle for opening and closing your trunk.