Custom License Plate Frames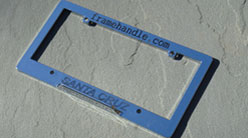 Make a statement out on the road with your own personalized license plate frame! At Framehandle.com we welcome you to come up with your own unique phrase for your new license plate frames.
We will CNC engrave your message onto your new Framehandle or standard license plate frame ensuring an everlasting custom frame for you to enjoy year after year.
Don't waste your time and money on other low quality customized license plate frames. Many of our competitors customize their products by engraving a separate piece of plastic and then gluing it on, we at Framehandle.com engrave directly on to our frames. This process provides a far superior and more luxurious look with unequaled durability.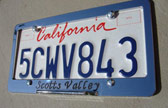 Some companies today are even selling customized license plate frames that use stickers or decals, a method that is sure to fail after being exposed to the elements. When you purchase any one of our signature license plate frames you'll be getting the latest most elegant frames available engraved with modern CNC technology. We are experts in premium customized license plate frames so let us CNC engrave a license plate frame for you!
FEATURES
Your personal statement will be engraved directly into the license plate frame, NOT onto a separate glued on piece of plastic like our competitors.

CNC engravings will not peel, fade, or scratch. Your custom phrase is engraved into your new license plate frame permanently!
BENEFITS
Our engraving process is state of the art and gives your new license plate frames a unique modern look.

A Custom Framehandle will provide you with: An easier way to open/close your trunk lid, your own creative engraved saying, and a beautiful frame for your license plate all in one!
Nowhere else will you find a license plate frame designed to make your life easier.Our license plate frames add a touch of class to your vehicle and can provide a useful handle for opening and closing your trunk.